Oleksiy Boldyriev
Інститут фізіології ім. О. О. Богомольця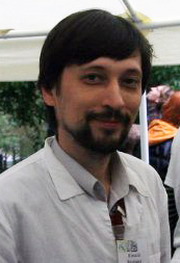 Болдирєв Олексій Ігорович, к.б.н.
Діяльність
Раніше
2016-2019 Голова ради молодих вчених та член Вченої ради Інституту фізіології
2015-2019 Заступник голови РМВ Відділення біохімії, фізіології та молекулярної біології НАН України
2013-2015 Асистент кафедри фізіології Національного медичного університету
Окремі публікації
F. C. Howarth, G. Norstedt, O. I. Boldyriev, M. A. Qureshi, O. Mohamed, K. Parekh, B. Venkataraman, S. Subramanya, A. Shmygol, L. T. Al Kury. Effects of prolactin on ventricular myocyte shortening and calcium transport in the streptozotocin-induced diabetic rat. Heliyon 6 (4) e03797 (2020)
Drevytska, T., Morhachov, R., Tumanovska, L., Portnichenko G, Nagibin V, Boldyriev O, Lapikova-Bryhinska T, Gurianova V., Dons'koi B., Freidin M., Ivanisenko V., Bragina EY, Hofestädt R., Dosenko V. shRNA-Induced Knockdown of a Bioinformatically Predicted Target IL10 Influences Functional Parameters in Spontaneously Hypertensive Rats with Asthma. Journal of Integrative Bioinformatics, 15(4). (2018)
I B Philyppov, A А Golub, O I Boldyriev, N L Shtefan, K Totska, O I Voitychuk, Y M Shuba. Myorelaxant action of fluorine-containing pinacidil analog, flocalin, in bladder smooth muscle is mediated by inhibition of l-type calcium channels rather than activation of KATP channels. Naunyn-Schmiedeberg's archives of pharmacology 389 (6), p. 585-592. (2016)
Sharop B., Boldyriev O, Shtefan N., Batiuk M., Shuba Y. Compensatory reduction of Cav3.1 expression in thalamocortical neurons of juvenile WAG/Rij rats. Epilepsy Research. V. 119, Jan, P. 10–12 (2016)
Novokhatska, S. Tishkin, V. Dosenko, A. Boldyriev, I. Ivanova, Ie. Strielkov, A. Soloviev Correction of vascular hypercontractility in spontaneously hypertensive rats using shRNAs-induced delta protein kinase C gene silencing. European journal of pharmacology. V. 718, 1, P 401-407 (2013)
Boldyriev OI, Sotkis HV, Kulieva EM, Vladimirova IA, Phylippov IB, Skryma R, Prevarskaya N, Shuba IaM [Expression of the cold receptor TRPM8 in the smooth muscles of the rat.] Fiziol Zh. 55:17-27 (2009) Ukrainian
Tsyba L, Gryaznova T, Dergai O, Dergai M, Skrypkina I, Kropyvko S, Boldyryev O, Nikolaienko O, Novokhatska O, Rynditch A. Alternative splicing affecting the SH3A domain controls the binding properties of intersectin 1 in neurons. Biochem Biophys Res Commun. 372(4):929-34. (2008)
Drebot IuI, Boldyriev OI, Dosenko VIe, Kostiuk PH. [Expression of genes encoding vanilloid receptors type 1 and type 2 in the cultured hippocampal neurons] Fiziol Zh. 54:3-9 (2008) Ukrainian.
Інші публікації
Контакти
Робоча адреса: м. Київ, вул. Академіка Богомольця, 4, к. 1102
Facebook: сторінка
Телефони: (044) 256 15 46, (044) 256 15 83
Цікаві посилання