Prof. OLEG O. KRISHTAL
Bogomoletz Institute of Physiology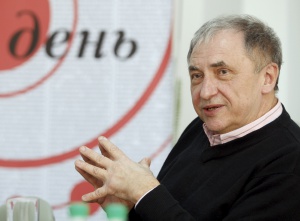 KRISHTAL OLEG
Date of Birth: July 5, 1945
Place of Birth: Kiev, USSR
Citizenship: Ukraine
Mailing Address: Bogomoletz Institute of Physiology, Bogomoletz Str.4, Kiev, 01024, Ukraine
Residence Address: Klovsky Descent 5, App. 61, Kiev, 01021, Ukraine
Telephone: +380 44 256 25 24 (office), +380 44 253 90 83 (home), +380 50 410 62 85 (handy)
Fax: +380 44 256 25 90
E-mail: krishtal@biph.kiev.ua
Web-site: http://www.deptcm.kiev.ua/krishtal/
Present positions: Director of Bogomoletz Institute of Physiology, Kiev, Head of the Department of Cellular Membranology, Bogomoletz Institute of Physiology, Kiev
Degrees:
University degree in Molecular Physics (1968),
PhD (1971),
Doctor of Sciences (1978),
Professor (1983),
Corresponding Member of the Ukrainian (1985) and Russian (1987) Academies of Sciences,
Member of Academia Europaea (1990),
Full Member of the Ukrainian Academy of Sciences (1997)
Post held
Research Fellow:
Department of Biophysics and Physiology, Bogomoletz Institute of Physiology, Kiev, 1968-70.
Junior Scientist, Department of General Physiology of Nervous System, Bogomoletz Institute of Physiology, Kiev, 1970-75.
Senior Scientist of the above-mentioned department, 1975-82.
Head of Department for Cellular Membranology, 1982 - up to date.
Deputy Director, Bogomoletz Institute of Physiology 2002- 2010.
President of Ukrainian Society for Neuroscience 2005 – up to date
President of Ukrainian Physiological Society 2010 – up to date
Director, Bogomoletz Institute of Physiology 2011 – up to date
Visiting professorships:
University of Kyushu, Japan, 1983, 1986.
Harvard University, USA, 1989.
Complutense University, Madrid, Spain, 1993.
University of Pennsylvania, USA, 1994.
Awards:
State Prize of the USSR for Science, 1983.
State Prize of Ukraine for Science, 2003
Howard Hughes Medical Institute International Scholarships (1995 to 2005)
Bogomoletz Prize for Physiology, 2013
Kostyuk Prize for Neuroscience, 2014
Editorial activity
Member of Editorial Board in:
Neuroscience,
Autonomic Neuroscience,
Purinergic Signalling
Frontiers in Neuroscience
Central European Journal of Biology
Publications:
169 publication in PubMed by Krishtal O and Kryshtal O; more than 7000 citations on these papers, h-index ca. 40.
Main discoveries:
First intracellular perfusion (1975)
Receptor for protons (ASIC), 1980
Ionotropic ATP receptors (P2X), 1983.